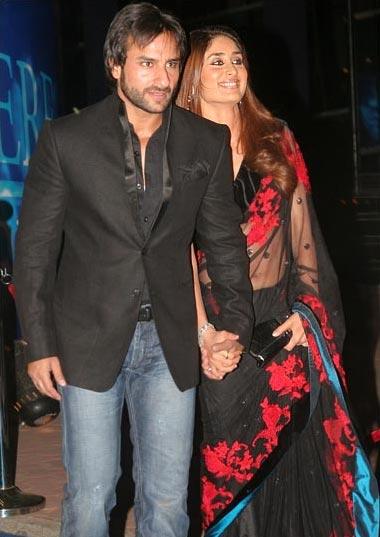 Even as Saif and Kareena's wedding date is coming closer - October 16 - the gossip-mongers haven't stopped speculating about the faith factor between the couple.
The latest news is that Kareena is insecure about Bipasha's shooting with Saif for Race 2 in Turkey and hence she will be flying out to be with her man. Earlier, too, there were rumours about Saif's affair with Deepika with who he has done maximum number of films.
But Kareena laughed off the rumours and cleared everything once and for all. "Insecurity is an emotion that has no place in my life. And I am going to Turkey because I want to spend quality time with Saif. Also it is vacation time for us," said Kareena.
She
further
says
, "
I encourage Saif to please work with everybody. He is free to work with whoever he wants to, it is not my concern. Even I am free to work with whoever I want, Saif never interferes."
And the great performer that she is, Kareena, who has four films grossing over 100 crore at the box office in last two years (a feat no other actor has achieved) has her plans in place post-shaadi. When asked whether she will work at the same pace as she is doing today, an ever candid Kareena replied,
"My career will always be the way it is. Work is my passion. Both, Saif and I are very urban and contemporary in our thoughts. We have our own space, he does his own thing. We don't even discuss work and I don't think Saif has ever asked me which film I am doing. He probably gets to know from the newspapers and magazines (laughs). If I am in a meeting, he doesn't even ask me who I had a meeting with. He is the most supportive man I could have asked for."