We have seen Sunny Leone and Randeep Hooda kissing and canoodling. The two even indulged in a rather raunchy bare-body massage for a song in Jism 2. The pornstar-turned-Bollywood babe now heats it up with hunky Arunoday Singh in new stills from the film. Now that makes us wonder what exactly Sunny will be doing in the film besides, of course, shedding her clothes for her co-actors. Will Sunny's role be limited to hopping in and out of bed with dishy dudes?
All eyes are glued to Sunny Leone these days. Everybody is wondering how the Canadian pornstar and her much-vaunted 'performance' skills will be utilised by director Pooja Bhatt in her upcoming release Jism 2. This is Sunny's first Bollywood film and going by the promos, you can easily sense what to expect from the sizzling babe.
Jism 2 is glossy erotica that promises to be high on titillation and skin show. And Sunny's presence, as expected, will serve as the cherry on this visually delightful cake. From what we can see, Pooja Bhatt's directorial comeback is an erotic thriller about the adventures of a spy who is using a porn star as bait to nab an assassin and save the country. All this, while both spy and assassin get intimate with the…err… lady at an exotic locale…
We have already seen sensational Sunny doing what she does best in the film's promos and songs. The steam quotient of this blue tinted flick is absolutely unmistakably high. It was visually stimulating to see Randeep Hooda, with his lean muscular body, steaming it up with the curvaceous babe. In the posters of the film we have witnessed the explosive chemistry between Hooda and Sunny. It was a titillating affair to spot the lead pair taking a shower together and getting all warm and cozy.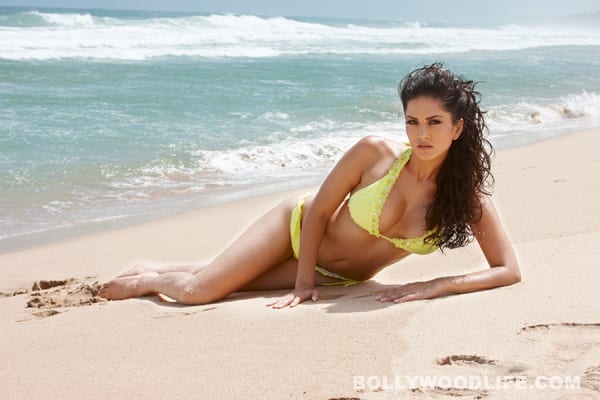 And now we see the adult film star shedding her clothes for Arunoday Singh. In the new stills of Jism 2 that we found just for you, we see Leone in a red-hot revealing gown walking all over Arunoday. The Yeh Saali Zindagi fame then jumps into bed with Sunny. It doesn't take too long for the two to drop their clothes and then…